Careers
---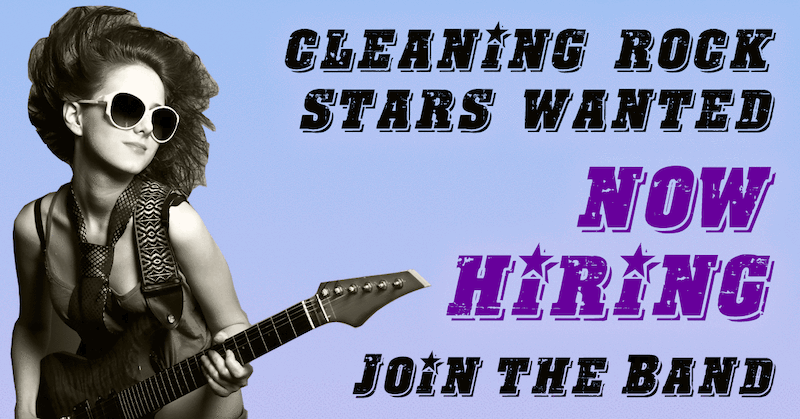 ROCKSTARS needed! Now hiring…
Would you like a flexible schedule with no nights or weekends?
How about competitive pay and a fun work environment? (Our cleaners average $450 to $700 per week)
A great workout – every time you work. Get paid to work out and cancel that gym membership!
Potential tips and bonuses for great work!
Opportunities for advancement (become a trainer, quality checker or in-home estimator to earn extra cash!)
Free uniform and paid comprehensive training
If you fit the qualifications below, fill out our online application and get started immediately with a career as a cleaning professional with Maid In Katy. This is a full time position available only to Rockstar quality candidates:
How do we define ROCKSTAR?
Go-Getter : You have a hard time sitting at a desk all day because you like to move and stay busy! You Follow Directions and have a keen Eye for Detail – you notice little things that others miss!
Excellent Communication Skills: You know how to listen to others and express yourself clearly.
Must LOVE Cleaning: We thrive on ensuring our clients experience the feeling of relaxation upon entering a clean home. To be successful, you must feel the same way. THIS IS ESSENTIAL.
Early Bird:You are a morning person who loves to start their day with a BANG!
Optimist: You see the glass as half full & don't allow challenges to derail your day.
Eagerness to Grow & Learn: You give 100% all the time and are always looking for the opportunity to improve. You like feedback and strive to do your best.
Multitasker: When given big projects with many small pieces, you say "BRING IT ON!"
---
WHAT WE PROVIDE
Comprehensive Paid Training . This isn't like cleaning your own home. We are going to show you how the pros do it!
Positive Work Environment – Negativity & drama are not welcome here.
Fun Work Environment – We work hard AND play harder!
Weekly Compensation – Our cleaners average $450 – $700+ per week plus tips
Paid Vacation
No Nights or Weekends required
Advancement Opportunities
Emphasis on Personal Growth
Requirements:
The ability to lift 20 lbs; stand, bend, kneel, push, pull and perform cleaning duties
Ability to read, speak, and write English fluently
Have a valid driver's license
Have Auto Liability Insurance with your name on the proof of insurance form
Must be comfortable working around pets of all kinds: dogs, birds, cats, hamsters, etc.
Must have your own car in good working order to carry cleaning supplies and get to your daily cleaning assignments. This is an ABSOLUTE MUST!
Be able to PASS a criminal background check
Job Type: Full-time
---
Click the link below to go to our online application. Please fill out the application completely.